Etching allows us to transfer the most complex artwork to a brass, bronze, copper or stainless steel plaque. Etched plaques are an excellent choice for displays and exhibits that feature lots of information and require detailed images.
Mounting Options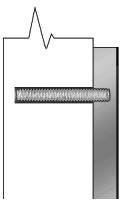 Stud Mount
(Blind Mount)
All etched plaques 1/4" thick and thicker are drilled and tapped.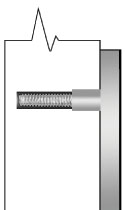 Stud Boss Mount
(Blind Mount)
Plaques thinner than 1/4" can be stud mounted with welded stud bosses.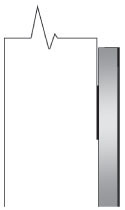 Double Face Tape Mount
(Blind Mount)
Strips of "Very High Bond" tape are applied to the back of the plaque.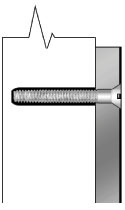 Screw Mount
Holes are drilled through the surface of the plaque. Specify screw size and if you need the holes to be countersunk. 1/16" thick plaques cannot be countersunk and will include round head screws.
Edges



Square Edge (Standard)
The standard edge on an etched plaque is a straight edge (90º


Bevel Edge (+10%)
An optional bevel (41º) edge is applied to one half the material thickness. Bevel edges are not available on 1/16" thick material.
BEST PRICES - BEST QUALITY - BEST CUSTOMER SERVICE
Shop, compare and order from over 15,000 sign letters, metal sign letters, cast metal sign letters, acrylic sign letters, plastic sign letters, custom sign letters, foam sign letters and changeable sign letters - for all types of uses that are easy to install. Custom Exterior Signs, custom interior signs, custom lobby signs, custom business signs, plaques, church signs, school signs, military signs, government signs and retail signs - we've got you covered. Call us with all of your signage questions, our friendly signage experts are here to help you.